JAM 'TIL DAWN*
A Column by Toni Brown
It's been a long time since I've had the opportunity to write about music. Over three years, in fact! If you've ever heard of Relix, you'll know me as the long-time publisher of the premiere magazine on the Deadhead scene. We were also the launching point for following generations of Jambands. Phish, Blues Traveler, Widespread Panic, Leftover Salmon, String Cheese Incident, Dark Star Orchestra, Govt Mule and so many others got their first international media exposure through our pages.
The sister company to Relix magazine, Relix Records, was formed in 1980. We were amongst the first independent labels, and in twenty years, had released 120 projects. Our distribution flourished, and we understood our market. We enjoyed working with artists we'd grown up admiring, such as Hot Tuna, the New Riders of the Purple Sage, Commander Cody, Flying Burrito Brothers, Savoy Brown, Johnny Winter, Merl Saunders, Kingfish, Robert Hunter—well, you get the idea.
Relix was sold in August of 2000.
Ironically, all of my years in the "industry" left me poorly prepared for the reality of striking out on my own. Having spent these last few years immersed in my own musical forays, I have found myself humbled; amazed at how difficult and complicated the business of music has become.
I had released my first two albums on the Relix label. After our departure from the company, I put together my latest effort—a passionate, ethereal acoustic journey—which I released myself. And as proud as I am of Rabbit Hole Soul, I now know how difficult it is to get a recorded project from your head to the ears of the public.
Southbound's Ray Carver has offered me the opportunity to write a column for his cyber forum. I hope to share some of my experience and knowledge with fellow artists, as well as provide reviews, news and information on some of the amazing musicians that I have known for decades, talented performers I meet on the road, and new artists I have yet to discover.
If you have any news you'd like to share, write me at JamTilDawn1@aol.com. If you have projects you'd like considered for review, please send them to:
Toni Brown,
P.O. Box 470156,
Celebration, FL 34747.
JERRY JAMS, JERRY CARES, A Charitable Tribute To Jerry Garcia
This worthwhile organization uses a quote from Jerry Garcia, "Somebody's got to do something. It might as well be us," to dig into the Jamband scene and bring together some of the finest musicians from the New Jersey area—and beyond. Charitable events are held several times a year, and the proceeds benefit Jersey Jams Fund whose aim is to help restore music and art programs in New Jersey schools. The organization also helps to provide music scholarships and mentoring programs.
The series of concerts are augmented by CD Tributes to Jerry Garcia in which time and talent is donated. The first release features Railroad Earth, Bernie Worrell and the Woo Warriors, Robert Randolph & the Family Band, Swampadelica, the VooDudes, Lo Faber Band, and many others. Their next project, slated for 2005 release, is planned as a three-CD package, and will include a wide range of performers doing tribute songs to Garcia.
Havana's in New Hope, Pennsylvania, will host the next Jerry Jams, Jerry Cares the first weekend of August, 2004. They will feature ten bands throughout the day, as well as an auction to raise money for the organization.
For more information, check out www.JerseyJamsFund.org.
J.C. FLYER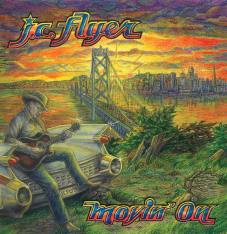 J.C. Flyer was a long-time Relix contributor. In addition to interviews and features, he wrote the popular Bay Area Bits column (under the moniker of J.C. Juanis) for many years. J.C. has just released a debut CD, Movin' On. His original "high-flying" country rock has him teamed up with some special friends—The Dead and Phil Lesh keyboardist Rob Barraco, Chris and Lorin Rowan, former E Street Band drummer Ernest "Boom" Carter, David Nelson Band's pedal steel ace Barry Sless, Nash Bridges musical director George Michalski, and Kingfish keyboardist Barry Flast.
J.C. Flyer's music promises to touch you on many levels. Ranging from southern flavored rockers to western swing and weepy barroom ballads, this artist's passion is going to move you. For more on Movin' On, check out www.JCFLYER.com.
CRAZY FINGERS
South Florida's favorite Jamband, Crazy Fingers, has released a new CD, It's A Crazy Life. From the opeing up-tempo bluegrass inflected "Morning Glory," to the anthemic and timely "The Bomb Song," this band incorporates a familiar tapestry of improvisational sound while reaching beyond the borders of its palpable Grateful Dead influence.
Featuring long-time cohorts, Bubba Newton on bass, Pete Lavezzoli on drums, Rich Friedman on guitar, Josh Foster on keys and Corey Dwyer on guitar and keys, the band can boast of two decades of musical history.
Corey Dwyer has done a great job of engineering the project, in addition to having co-written the songs along with Bubba. Check out the band's website, www.CrazyFingers.net. Dwyer also has a new recording facility in Boynton Beach, Florida—Dream Factory Recording Studio, 561-843-2842.
As a side note, and not to take away from the excitement of the band's new release, be sure and check out Crazy Fingers' acoustic side project—The Grass Is Dead. Along with some special friends, they've recorded a couple of superb bluegrass CDs. Highly recommended listening.
BILLY GOODMAN
Becoming a crew member for the Jefferson Starship in the mid-seventies opened up some interesting opportunities for New York-born guitarist, Billy Goodman. He'd be invited to play bass on a few songs nightly during his six-year run with them. During a Jefferson Airplane reunion concert, Goodman cornered Jefferson Airplane founding member, guitarist Jorma Kaukonen, and played some songs for him. Instead of being tossed out of the room, as Billy expected, Jorma offered him the opening slot on his upcoming tour. After being encouraged by Jorma, he pursued a solo career in the blues.
Billy did an opening slot for Dave Mason in 1989, and was invited to sing and play slide guitar with The Dave Mason Band for a national tour.
Billy and his brother Frank (who is known for his involvement with Mesa Boogie, and now lives and performs in Nashville) released Crooked Smile on Taxim Records, for which they received rave reviews.
The Goodmans originally teamed up with guitarist Steve Kimock in 1991, but for over a decade, Kimock's hectic schedule with Zero, Phil & Friends and the Kimock Band kept him too busy to record with the brothers. Finally, they've released a recent live, downloadable concert. You can get the show by going to: www.archive.org/audio/etree-details-db.php?id=7623.
For more info on Billy Goodman, check out his website at www.BillyGoodman.com. For info on Frank Goodman, go to www.FrankGoodman.com. The Goodman family also has a delightfully thoughtful webzine that focuses on singer/songwriters and pop and roots music for grownups. Check out www.puremusic.com.
NEW YEAR'S EVE
A brief listing of some end-of-year concert highlights:
Dec. 30-31 The Dead, The Funk Brothers, Robert Hunter, Oakland Arena, Oakland, CA www.dead
Dec. 28-31 Phish, American Airlines Arena, Miami, Florida www.Phish.com
Dec. 30-31 Widespread Panic, Philips Arena, Atlanta, Georgia www.WidespreadPanic.com
Dec. 29-31 String Cheese Incident, Auditorium Theater, Chicago, Illinois www.StringCheeseIncid
Dec. 31 Leftover Salmon w/Del McCoury Band, Ryman Auditorium, Nashville, Tennessee www
Dec. 30-31 Ekoostik hookah, Promo West Pavilion, Columbus, OH www.ekoostik.com
Dec. 31 Moe. and Maceo Parker, Tweeter Center, Camden, New Jersey www.moe.org
http:// www.JamBase.com is a helpful site to search for what's happening on the live music front. I recommend adding your name to their mailing list.
HELPFUL INDUSTRY HINTS
PUBLIC ACCESS RADIO
Musicians are, and have always been, hard pressed to get airplay in the commercial radio market. At times, with a little research and luck, an independent radio station will listen to a new release and put it on the air. It might sound unbelievable that a freelance artist would get a response, but it really does happen. And for that reason, it is critically important for the public to support their local non-commercial radio stations.
In New York, WFUV-FM on the Fordham University campus, and XPN-FM on the University of Pennsylvania campus provide listeners with diverse alternative and creative programming. They feature the Grateful Dead Hour, and provide air-time for a wide variety of classic, new and eclectic artists.
Go to the websites of your local non-commercial or college stations (often, these are the same), and take the time to review the programming. Make a note of shows your music might fit into, especially if they offer "local" talent slots. Send press info, a bio, and a CD to the station manager, program director and to the specific DJs that host the shows you think are appropriate for your work. They get dozens of releases a day, but with a little luck and a catchy cover, band name or CD title, you just might catch someone's ear!
Don't forget to support these stations by contributing to their fund drives. You can also offer them free CDs for promo giveaways during their fund drives, which is a great way to get publicity.
Mojo Music Studio airs to over 80 High School, College, Commercial and Internet Radio stations internationally. Rock, Pop, Alternative, Ska, Punk, Reggae, Blues Rock, etc., will all be considered. Go to their website at www.mojomusicstudio.com to find out how to become a member. Airplay is free if your music is chosen to be aired on "The Studio" Radio show. Tell them Toni/SouthboundBeat sent you.
DISTRIBUTION
CD Baby is a unique online music distributor. They will take your music and download samples onto their retail site to help awaken interest in your project. They are honest and hardworking, and with your promotional support, they provide you with a legitimate outlet to get your music out there. I highly recommend using this invaluable resource. Contact them directly at www.CDBaby.com. You have nothing to lose!
Share your favorite non-commercial and college radio stations, or any other helpful industry hints with our readers by writing to me: JamTilDawn1@aol.com.
*Jam 'Til Dawn Music is a trademark of Brown Communications ©2003.
Check out the Toni Brown music website at: www.ToniBrownBand.com.
RECORD REVIEWS
Joe Stuby & Rocking Horse's new CD, Cosmic Soul (Orion Rising Records), is a funky blues-rock blend, and features special guests Bernie Worrell (Woo Warriors) and Jen Durkin (Deep Banana Blackout). Ranging from rhythmic improvisation to slam-against-the-wall fusion, the band is a powerhouse of hook-laden sound. Not for the mellowly-inclined.
Visit web site http://http://www.rockinghorseband.com
Toni Brown
http://www.ToniBrownBand.com